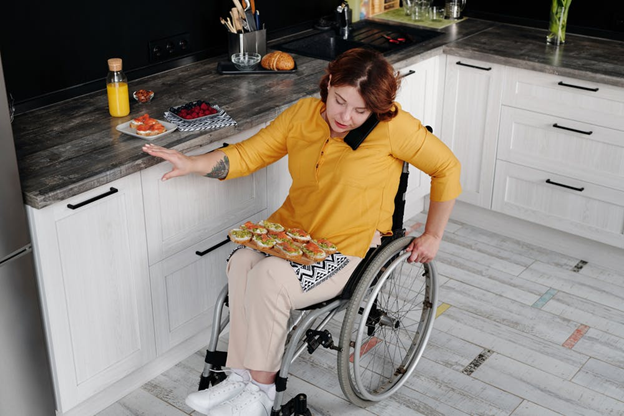 Written By: Suzie Wilson
Buying a house is probably one of the most exciting milestones you will have in life. However, it can become tricky if you have a specific need like increased accessibility. Don't despair, though. As long as you keep an open mind, trust the process, and follow these tips presented by Nationwide Lifts, you can find the accessible home of your dreams.
Prepare
The more prepared you are, the less stressful buying a home will be. Make sure you understand the whole process before you get started. Your first step should be to find a reputable Realtor and lender. They can walk you through loan approval, writing offers, appraisals, inspections, closing, and beyond.
As soon as you decide you're going to move, start budgeting. Your agent and lender can explain the costs of buying. However, you should budget on your own, too. Additional expenses will potentially include remodeling, storage, and a moving company. Even local moves can cost up to $2,000, so find a trusted, well-reviewed company, get quotes, and start saving as soon as possible.
If you're self-employed or running your own business, remember that there are some additional things you need to consider, including interruptions in work, and you should try and prioritize setting up your new office or workspace as soon as possible.
Search
When it's time to start searching, make two lists. One list should be your must-haves and the second your preferences. You can include location, interior features, number of bedrooms, number of bathrooms, acreage, basement preference, garage preference, and style.
Pay particular attention to accessibility needs. You do not necessarily need a ranch, but you probably need main floor living. That means at least one bedroom, one bathroom, a kitchen, and the laundry are on the first level. Ideally, look for an open floor plan with wide walkways, oversized bathrooms, a walk-in shower, and accessible entryways.
Save
If your search is only bringing up homes at the top of your budget, there are some savvy ways to save money. You should consider looking into assistance programs, asking the seller to pay closing costs, selecting a loan with a small downpayment, or purchasing a home as-is.
Be warned; there are a few corners you should avoid cutting if you do not want to cost yourself more in the end, especially when buying an as-is home. It is inadvisable to skip your home inspection in any case, even if the home appears perfect to you. Forgoing a lawyer reading your documents or a land survey can also put you in future trouble.
Renovate
If you can't find a home that checks all your boxes, consider renovating. You can never change the location of a home, but you can improve aesthetics, features, and even the layout.
As long as the bones are good, many homes can be made more accessible. Have American Renovation determine what changes are viable. Be sure to ask about features like ramps, wider doorways, an open design, a retrofitted bathroom, and smooth flooring.
Relax
Moving is a big process, but stressing does not make it any easier. Do your best to stay calm, because, in the end, you get a home. One thing that can greatly reduce your stress is having good, open communication with your Realtor and lender.
According to surveys, the average person only buys three homes during their lifetime. That means no one expects you to be an expert. Just educate yourself, plan ahead, and don't worry about asking questions.
Moving into an accessible home doesn't have to be out of your reach. Call a real estate agent, lender, and renovation company today to discuss your options.
Nationawide Lifts is the only elevator company to offer customers a large selection of products, the industry's best warranty, 24/7 phone support, and a network of expertise across the United States. To learn more about our products and how we can help you, please fill out our contact form.
Image via Pexels